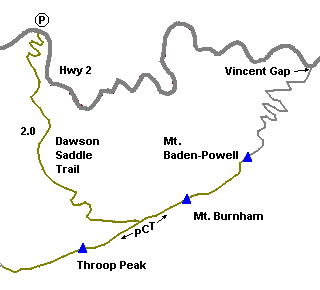 Dawson Saddle Trail
Intermediate smooth single track (out and back)
A great single track with spectacular views and only 920 feet of elevation gain in 2 miles.
Approximately 4 miles round trip from Hwy 2.

Start 14.5 miles west of Wrightwood on Hwy 2. Look for small dirt parking lot on right just before Hwy 2 reaches Dawson Saddle. Trail starts 100 ft west and across the Hwy from the parking area.

Trail climbs steeply at first then eases off, gradually climbing the ridge of Throop Peak on it's northeast slope. Turn around when you reach the Pacific Crest Trail at the saddle between Throop Peak and Mt. Burnham.