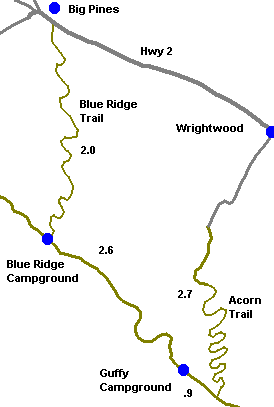 Blue Ridge Trail
Intermediate smooth single track (out and back)

Approximately 4 miles round trip from Hwy 2 to Blue Ridge Campground and back. 1,000 ft elevation gain in 2 miles. Forested trail with Spring wildflowers or fall colors.

Trailhead is 3.7 miles west of Wrightwood on Hwy 2. Turn left (south) onto dirt road and park in small dirt parking area near Blue Ridge trail sign.

Acorn Trail variation: (13 mile loop on intermediate single track, dirt road and pavement.) Continue from Blue Ridge Campground on dirt road 3N06 east to Guffy Campground. Turn left onto Acorn Trail .9 miles after Guffy Campground. Descend 2.7 miles on single track to pavement and down to the town of Wrightwood.