Big Pines Recreation Area
The Big Pines Recreation Area offers a variety of recreational opportunities and facilities for year-round enjoyment. Ten campgrounds and five picnic areas are available, and all provide tables, stoves and restrooms. Numerous hiking trails are in the area, including a section of the Pacific Crest Trail. Nearby Jackson Lake provides opportunities for fishing, and Grassy Hollow Visitor Center is just a few miles west of Big Pines.

During the summer a variety of special activities are offered for Forest visitors. Included in the schedule are campfire programs, guided nature walks, and children's activities. Program schedules are posted on the bulletin boards in the campgrounds and at the Information Station. These activities are made possible by volunteers of the Angeles National Forest.

The Big Pines Information Station, located near the ANGELES National Forest junction of State Highway 2 and Big Pines Hwy (County Road N-4), provides information regarding recreation opportunities, as well as National Forest Adventure Pass sales, campfire permits, brochures, books and topographic maps for sale. The Information Station is open everyday from 8:00 a.m. to 3:30 p.m.

A National Forest Adventure Pass or Golden Passport is required for your vehicle if parked on National Forest lands while recreating (picnicking, hiking, camping in a no-fee campground, hunting, etc.). A Pass is not needed if you are parked at an administrative site (Information Station, Visitor Center, etc.) or in an area where a fee is already required. We hope you have an enjoyable time while visiting this area. If we can be of assistance, please contact one of our rangers or stop by the Information Station. For more information call the District Office at (760) 249-3504.


Campgrounds
Table Mountain

Located on Table Mountain Road, one mile from Big Pines, CA. Table Mountain Road is a ...

Appletree

Located on Big Pines Highway (Co. road N4), approximately 2 miles west of Big Pines, ...

Peavine

Located on Big Pines Highway, 2.5 miles west of Big Pines, ...

Mountain Oak

Located on Big Pines Highway (Co. road N4) 3 miles from Big Pines, ...

Blue Ridge

The Pacific Crest Trail runs right beside the camp. ...

Guffy

The road into the campground is a rough dirt road - after the first 5 miles a four-wheel drive is ...

Lupine

(walk-in) No water. Campsites are first come - first served. ...

Cabin Flat

(walk-in only) Closed except for walk-in campers, mountain bikes and equestrians ...
Picnic Areas
Arch
Grassy Hollow
Jackson Lake
Table Mountain
Mescal
Hiking Trails



Source - USFS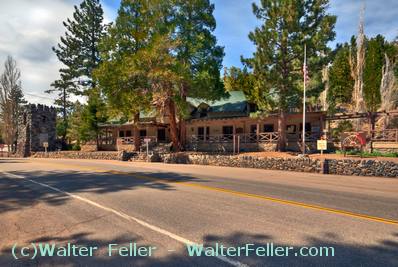 Big Pines Information Center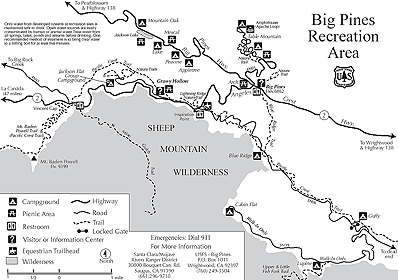 Map of Big Pines Recreation Area
(click for full size interactive map)